Established in 1993 CMAX is one of Australia's largest and most experienced clinical trial centres. Our expert team is committed to supporting innovative medical research in partnership with our national and international sponsors.
Centrally positioned in Adelaide, CMAX is located adjacent to The Royal Adelaide Hospital in South Australia's innovative Bio-Med City precinct.
Most recent achievement:
CMAX was greatly honoured to receive a visit from His Excellency the Honourable Hieu Van Le AC, the Governor of South Australia, on 22 November.
The purpose of the visit was to congratulate CMAX on winning the 2018 SA Business Services Export Award.
His Excellency spent 50 minutes at CMAX, discussing the business and future directions as well as touring the facility.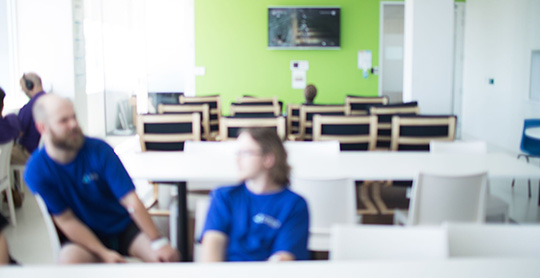 Clinical trials undertaken at CMAX have resulted in the advancement of global medicines and technologies, from cancer treatments to early warning bio-devices and hormone replacement therapies.
For more than two decades we have delivered early-phase clinical trials in partnership with pharmaceutical, biotechnology and device companies. We deliver to an exceptional standard, meeting all of the national and international regulatory requirements.
CMAX is Australia's longest established, independent facility for clinical trials and delivers exceptional quality.
Our new, custom-built facility opened in 2016 opposite the Royal Adelaide Hospital and adjacent to Adelaide's Bio-Med City, one of the largest health and life sciences clusters in the southern hemisphere, providing ready access to state-of-the-art facilities and equipment and world-class medical and pharmacology specialists.
Since 1993 we have delivered more than 600 early phase clinical trials, including more than 100 first time in human studies for our national and international clients which include pharmaceutical, biotechnology and device companies.
4 nights in-house + 2 visits
Eligibility requirements
Males and females aged 18 to 65 years
BMI must be between 18 to 30kg/m²
Body weight must be under 100kg
Must be in good general health
Must not be taking any medications
No blood donation 2 months prior
No significant allergies
Non-smokers
No dietary requirements 
CM4319
3 nights in-house + 1 visit + 1 phone call OR 9 nights in-house + 1 visit + 1 phone call
Eligibility requirements
Males and females aged 18 to 55 years
BMI must be between 18 to 30kg/m²
Body weight must be above 50kg
Must be in good general health
Must not be taking any medications
Must not have participated in a trial 2 months prior
No blood donation 1 month prior
No significant allergies
Non-smokers
CM6019
9 nights in-house + 1 visit OR 18 nights in-house + 3 visits
Eligibility requirements
Males and females aged 18 to 55 years
BMI must be between 18 to 30kg/m²
Body weight must be above 50kg
Must be in good general health
Must not be taking any medications
No blood donation 2 months prior
No significant allergies
Non-smokers